Our alumni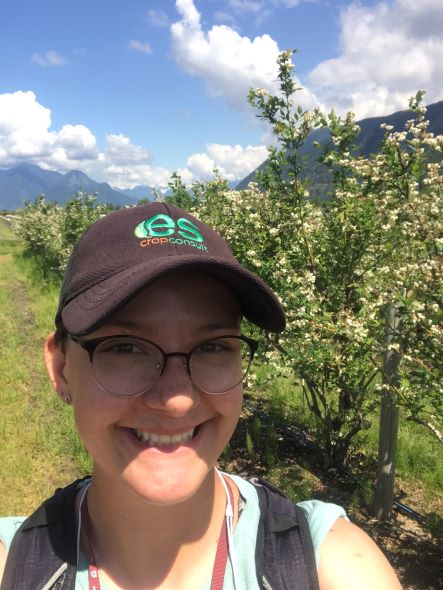 I started in the Horticulture Crop Production and Protection certificate program at UFV purely based on my general interest in plants and knowing the Fraser Valley is a very active agricultural region. Coming into the program with absolutely no previous experience or history in agriculture, it was definitely a hit the ground running experience!
Throughout the year, the courses taught by Dr. Renee Prasad on integrated pest management (IPM) were particularly captivating and I found a growing interest to learn more about the different pests and their impact on various crops. I greatly enjoyed working firsthand in a greenhouse on-campus and around the grounds as these opportunities worked well with my hands-on learning style and I learnt practical skills.
Through the three-week practicum, I connected with E.S. Cropconsult Ltd which turned into a summer job, then into a committed full-time job! I have been in this field for eight years and going strong.
As an IPM consultant in small fruit crops, my job consists of inspecting many berry fields regularly throughout the growing season, looking for any signs of pests, identifying the culprit, and taking multiple factors into account before recommending next steps to our grower clients. I am also involved in trying to better develop certain monitoring protocols or management techniques for pests of high concern in these crops through various research projects and then sharing any outcomes with presentations to grower groups or other fellow researchers.
I regularly utilise the different pest identification tools taught by Dr. Prasad in her courses, as well as other skills such as working in an ever-changing environment and creating and executing various research questions and projects. For any students coming into the agriculture programs at UFV, either with prior exposure to the world of agriculture or not, I would recommend being willing to look at the lessons with a wide perspective. Agriculture is not just in this small region of BC, but is a constantly shifting global practice, where fresh minds and ideas for improvement are welcomed and encouraged!
– Allyson Mittelstaedt
Horticulture Crop Production and Protection Certificate graduate
I tried my hand in many different paths of livestock production before settling down in my current role. I worked as a sheep shepherd, began my education and beekeeping at the Honeybee Centre, which has carried onto being a very enriching personal hobby, managed a corporate broiler farm site, worked in Ritchie-Smith's forage nutrition lab as a lab technician, in addition to working alongside the Program Coordinator.
The Agriculture Technology diploma at UFV equipped me with the vocabulary and understanding necessary to be able to better connect with agricultural professionals and gave me a huge leg-up in pursuing my career goals.
The hand-on classes gave me an in-depth biological understanding of animals I had not previously had. Taking courses that interest me made my university experience unforgettable!
I am currently working at the BC Chicken Marketing Board as an auditor and field technician. This exciting role has taken me all over the province, auditing broiler farms, connecting with farmers and furthering my education and understanding of the industry.
If I could give one piece of advice to current and future students, it would be to say yes to every opportunity presented to you in both your program and this industry. If you work hard and apply yourself, you cannot fail!
– Dani Lane
Agriculture Technology Diploma (Livestock option) graduate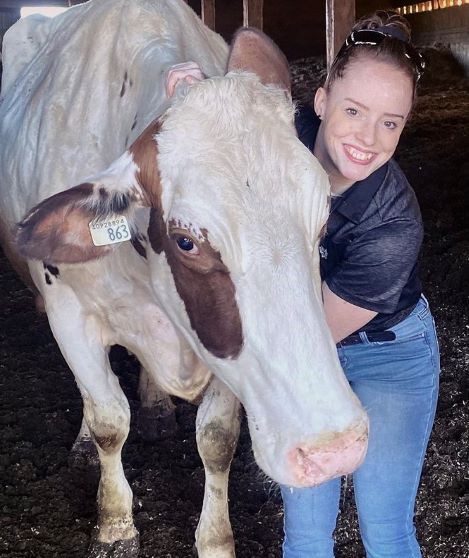 One of the best things about UFV's Agriculture Technology Diploma is the latitude of the topics covered in the program. I went into this program not knowing where exactly I wanted to end up in the agriculture industry – only that I wanted to work with animals. UFV's courses on production animal nutrition and health sparked an interest for me in the feed industry, and led me to pursue further education in this area. I was able to easily transfer my Diploma to my BSc., shaving a year off a 4-year degree. From there, I continued onto graduate studies and obtained my MSc. in Ruminant Nutrition. The network and relationships I had built with my professors at UFV also helped me achieve these goals.
After completing my graduate studies, I returned to industry and now work as a Dairy Nutritionist at Ritchie-Smith Feeds. I spend approximately 50% of my time in-office (primarily balancing rations and grain formulation), and 50% of my time on the road (consultative sales, on-farm troubleshooting, monitoring herd health and performance). Ultimately, my objective is to provide producers with optimal feeding programs targeted towards maximizing production, animal health, and profit. I really enjoy my dual role – I get to be technical and academic AND still keep my boots in the mud!
I found UFV's program to be very hands-on and practical. The technical information taught provided a great foundation of the basics – information I was able to use going into my BSc. to feel more comfortable with the subject material.
To current and future students in the agriculture programs, keep an open mind going into the program and seek guidance from your instructors. You might find yourself most interested in a subject that you didn't consider before – and your instructor will know the path to point you down for a potential career!
– Karen Scott
Agriculture Technology Diploma (Livestock option) graduate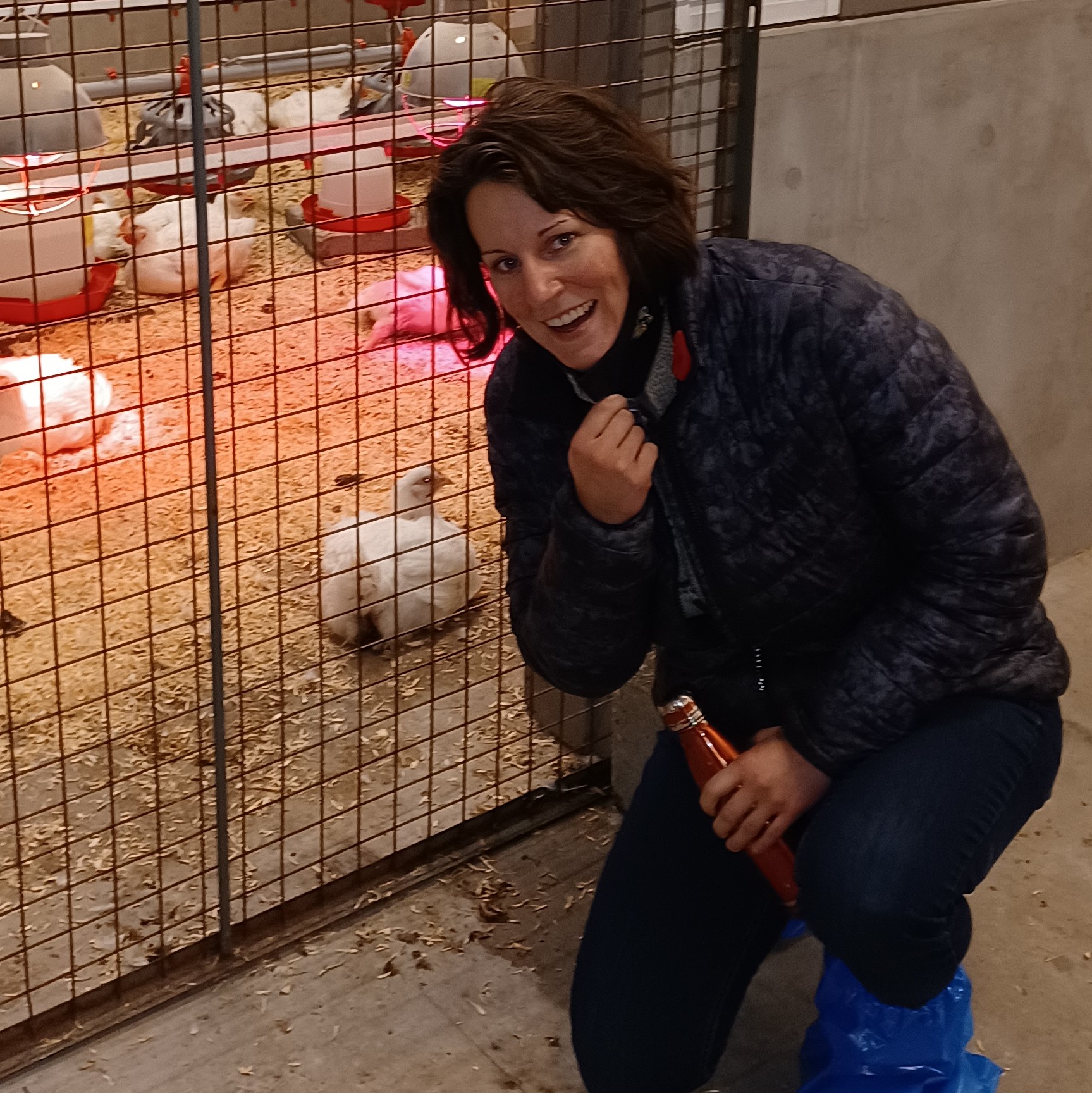 I had a keen interest to work in farming and agriculture, although I did not come from this background. I didn't know where to begin. Then I found UFV's agriculture program and took my first steps into the livestock industry.
It was great working in the barn with the animals, or touring farms and other agriculture facilities. The practical side of our learning cemented what we were taught in the classroom.
The broad spectrum of the program also exposed me to more than I anticipated. I went from simply wanting to milk cows (which I got to do!) to gaining a strong foundation and understanding of the livestock industry as a whole, from farm to processing as well as the businesses that service farms. Other opportunities in the agriculture industry opened that I didn't know existed. My current career path was made possible by connecting with my professors.
As a Dairy Nutritionist and Senior Lab Technician at Ritchie-Smith Feeds, I formulate grain and balance rations for our dairy farm customers, as well as oversee our forage lab which runs analysis that we use in ration balancing. The Excel skills I gained during the Enterprise Project class have been extremely beneficial!
My advice to current or future students in UFV's agriculture programs is be open to different paths presented to you in the agriculture program. You never know where they will lead you!
– Kirstie Bobetsis
Agriculture Technology Diploma (Livestock option) graduate
I have always been interested in agriculture. Back in my home country of India, I used to grow vegetables in my kitchen garden – at that time, I had absolutely no knowledge about commercial farming. When I looked at the Agriculture Technology diploma program offered at UFV, I felt I could learn valuable know-how and insights into modern farming.
UFV's environment was very welcoming, and I quickly felt at home. The small class size was effective in helping me engage with instructors; the hands-on courses gave me the opportunity to apply the theoretical fundamentals that I learned in the class into practice. I find that I use almost everything I learned in the Agriculture Technology diploma program, from pest management to vegetable production; I learnt so much about managing and growing a business from the business and enterprise courses.
Currently, I am working at QuantoTech Solutions, a fast-growing company in the vertical indoor-farming sector. My responsibilities range from day-to-day growing operations to sales, research, and development and HR management. I also work closely with engineers, brainstorming ideas to develop a fully automated vertical hydroponics growing systems and conducting research trials.
My advice to current and future students in UFV's agriculture programs would be to connect with as many people in the industry as possible throughout the program. Stay open-minded and say yes to every opportunity presented to you in both the program and the agriculture industry. Remember, you can never fail; you either succeed or you learn.
– Nandish Khandelwal
Agriculture Technology Diploma (Horticulture option) graduate