Student and Alumni Success Stories
Ashley Heaps
A research practicum student in her 4th year of Criminology, Ashley Heaps recently accompanied Dr. Yvon Dandurand to the United Nations Expert Group Meeting on Migrant Smuggling in Vienna. She says that she found it interesting to attend the meeting and be amongst lawyers and jurists from around the world, as well as to observe the heated legal and policy discussions.
During her practicum, supervised by Dr. Dandurand and Dr. Hayli Millar, Ashley has prepared analytical summaries of landmark Canadian court cases involving migrant smuggling. In her final year of Criminology at UFV, Ashley plans to attend law school in September 2017.
Jessica Jahn
Jessica Jahn, a fourth year Criminology student, is completing her Honour's BA. As part of her program, she has worked as a research assistant on several research projects, including a justice for children project in Addis Ababa (Ethiopia), a project to develop a police officers' checklist for identifying children at risk, and a project on children of incarcerated parents. Her research interests have focused this year on access to justice issues, including the provision of public legal information and education, and the delivery of legal aid services. She authored a report for the Legal Services Society of BC on "Online Dispute Resolution and Access to Justice: Credibility and trustworthiness". As part of her research practicum she has participated in a planning meeting at the Department of Justice of Canada, in Ottawa, and at a meeting of the Federal/Provincial/Territorial Permanent Working Group on Criminal Legal Aid. She contributed to a discussion paper commissioned by Justice Canada on "Performance Indicators for Criminal Legal Aid and Immigration & Refugee Legal Aid", to a report on "Applying the Triple Aim Thinking to Access to Justice Measures" for the BC Access to Justice Committee, and to a journal article on "Human Trafficking and Police Governance". She is currently completing a study relating to on-line resolution of family law dispute for the BC Legal Services Society and will be presenting in 2017 at the Annual Meeting of the Canadian Evaluation Society".
Brian Radant
The Abbotsford Online Poppy Album
History Department student Brian Radant researched and compiled the information on the home addresses and photographs of Abbotsford casualties in World War II. Starting with only the names on the Abbotsford cenotaph, Brian traced their information from newspaper files at The Reach Archives, as well as from local land registry records and online resources at Library and Archives Canada.
The Online Poppy Album commemorates 24 recruits from Abbotsford who died in World War II. It does so in a unique way, by showing where these individuals lived when they signed up, and connects us to the life-altering events of the past through geography.
We are grateful to Abbotsford Legion Branch 15 for hosting the Poppy Album: The Abbotsford Online Poppy Album.
Taylor Breckles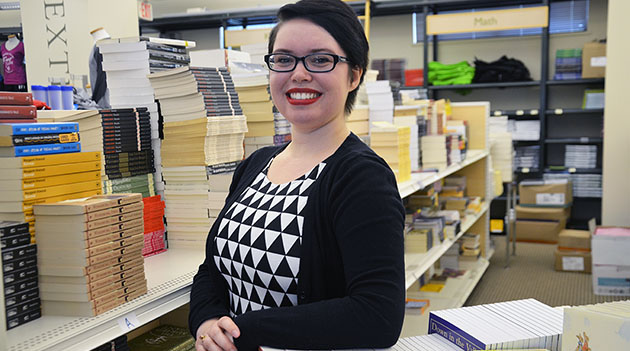 It's often said that to make the most of your university experience, you should do more than just attend classes and study for exams.
Taylor Breckles takes that advice to heart. She refuses to give in to the commuter campus syndrome, and makes UFV's Abbotsford campus her home away from home even though she lives just 20 minutes away. And her sense of adventure will soon whisk her away for a year studying abroad in Poland.
Breckles will be spending the fall and winter semesters studying in Poland as part of UFV's Study Abroad program at the University of Silesia, a UFV partner university in Poland, where her UFV English professor Michelle LaFlamme has a connection that helped create the opportunity for Breckles.
The best part? Breckles recently heard that she was one of a select few students province-wide to receive a $10,000 Premier's International Scholarship to help fund her studies abroad. Read More.
Criminology Students
‌
Criminology students Jessica Jahn, Dane Reavie, and Ruben Timmerman (shown above with UFV faculty member Yvon Dandurand) have been volunteering (Jessica and Dane) or doing a research practicum (Ruben) at the International Centre for Criminal Law Reform. As part of their work, they assisted at the Conference on Integrity in "Local Government: Mitigating the Risks of Conflict of Interest, Fraud and Corruption", on February 29th, in Vancouver. Their contribution was acknowledged by the Chair of the Conference.
Geography Students
Want to know what scientists do at Woods Hole Oceanographic Institution (WHOI) http://www.whoi.edu?

Woods Hole Oceanographic Institution
The Woods Hole Oceanographic Institution is a private, independent, not-for-profit corporation dedicated to research and higher education at the frontiers of ocean science.
Political Science major Maxina Spies recognized by the BC Political Science Association
Political Science major Maxina Spies has been recognized by the BC Political Science Association and awarded the Mike Meade Lower Division Essay Prize for the best political science paper province-wide in a first or second year course. Congratulations to MAxina whose essay, "Transformation of Sovereignty: The Construction of Kurdistan" was written in Associate Professor Edward Akuffo's POSC 260: International Relations and Global Politic's course. This is the second year in a row that prize has been awarded to a UFV student - Dylan Thiessen won in May, 2014 for a paper he wrote for Associate Professor Hamish Telford's POSC 230: Comparative Politics course.
2015 GDD grad Emily McLean - "Brand Identity" Salazar Award Winner
‌
Despite stiff competition from Capilano, Kwantlen, Emily Carr, and Langara, UFV's Emily McLean (2015 GDD diploma grad) won the "Brand Identity" category in a major BC Chapter GDC Awards Competition, Salazar Awards. Check out Emily's website at www.emilymclean.ca
First UFV student to be accepted to prestigious Honors Program at the 2015 American Sociological Association annual meeting
Sociology major Sydnee Christian is the first UFV student to be accepted to the prestigious ASA Honours Program at the 2015 ASA annual conference happening in chicago, IL. The program is designed to bring exceptional undergraduate students together to participate actively in special sessions designed for them and to network with peers across North America. Taking part in the ASA Honors Program provides a significant and meaningful early experience in the careers of the next generation of sociologists.
UFV Geography grad, Dan Huesken, featured in Maclean's 2015 Guide to Jobs in Canada
‌
Pictured punching GPS coordinates while perched above topographical map of B.C.'s interior forest district, Huesken is featured prominently in Maclean's magazine's 2015 Guide to Jobs in Canada - an annual publication aimed at helping youth make 'informed decisions about post-secondary education and career choices, from hot jobs to jobs of the future'.
Internet's a-buzz with UFV graduate's beer bottle resume
Well ahead of graduating from UFV's Graphic and Digital Design diploma program, Brennan Gleason sent out a very unique resume: his own home-brewed beer beautifully packaged as Resum-Ale. Holding four handsome bottles of 6.9-per-cent-alcohol beer, the packaging reads: "Visually pleasing, smooth and elegant with a bit of a wild side...and I'm not just talking about the beer."