International Women's Day and One Billion Rising Campaign
08 March 2014 - 08 March 2014
11:00 AM
Clearbrook Library
UFV co-presents International Women's Day event in Abbotsford
The Centre for Indo-Canadian Studies is partnering with The Reach Gallery Museum, Abbotsford, GirlKIND Foundation, The Fraser Valley Coalition for Women, Abbotsford Community Services, Women's Resource Society of the Fraser Valley, Christine Lamb House and The International Centre for Criminal Lar Reform and Criminal Justice Policy to do an event marking the One Billion Rising campaign and International Women's Day, featuring guest speaker, Rumana Monzur.
Rumana's commitment to education and unwillingness to concede in the face of incredible adversity makes her an ideal keynote speaker for Abbotsford's International Women's Day event.
"It's a day to celebrate the inspirational and brave work women around the world are doing to secure women's and girl's rights and create better and equitable societies."
"It is also a day to reflect on the work that remains and remember the many women whose voices go unheard and who continue to be excluded from realizing their full potential. One Billion Rising will turn the world stage into an arena for events worldwide."
Abbotsford's One Billion Rising event runs Saturday, March 8 from 11 am – 3 pm, with Monzur's keynote at 1 pm. Parts of the event will be outside at Thunderbird Civic Plaza (adjacent to The Reach) with the keynote and film taking place inside The Reach. The event is free but registration is recommended for the film screening as seats will fill up fast.
For more information visit www.vday.org, or email sharanjit.sandhra@ufv.ca.


Sharn Sandhra: (604) 851-6325
Kris Foulds: (604) 864-8087
Deesh Sekhon: (604) 825-8088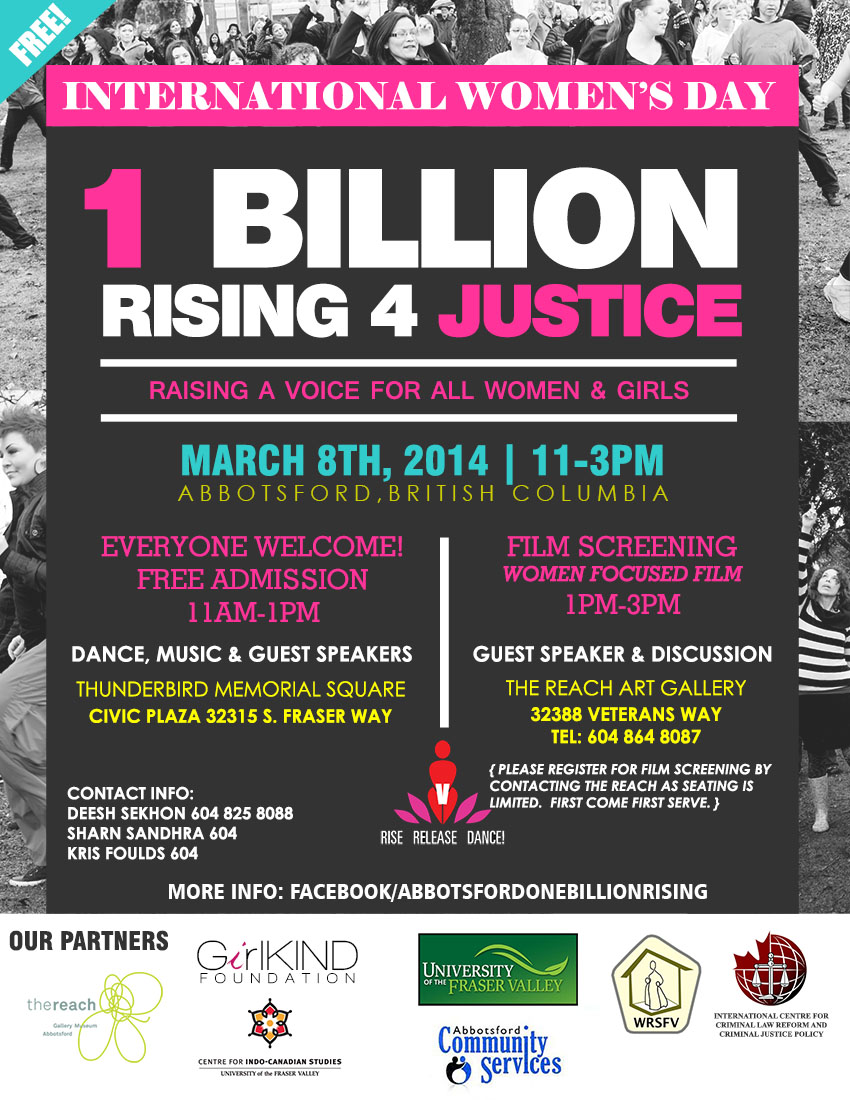 ---
Organizers:

Centre for Indo-Canadian Studies