LIBIT alumni reunion reception
22 November 2013 - 22 November 2013
19:00 PM
Abbotsford Campus
LIBIT alumni reunion reception – Nov 22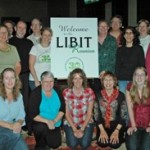 UFV's Library and Information Technology department and alumni association will host a reception for LIBIT alumni on Fri, Nov 22 at 7pm.
The evening will include appetizers and alumni commemorative wine, a silent auction and more.
Event details: Alumni Hall, B Bldg, Abbotsford campus. 7 pm $15/person
LIBIT alumni can register online at www.ufv.ca/libitreunion. The deadline for registration is Fri Nov 8 so don't wait, register now!
For more information, contact Adhiraj Brar at adhiraj.brar@ufv.ca
---
Organizers:

Alumni