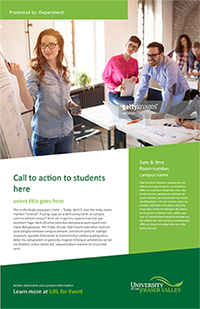 ‌Using templates is one of the best ways to leverage the credibility and recognition of the UFV brand to your advantage — and save time.
UFV marketing materials are available for use by staff and faculty.
Available templates
4-page booklet brochure
Events & services posters
Flyers & handouts
Guest speaker posters
Landscape posters
Postcards
Presentations
Reports
Rack cards
Stationery
Bookmarks
TV announcements
How to get Marketing Materials?
UFV marketing templates can be accessed:
Logging in using your network credentals or
Downloading them from the 'Marketing-Materials' folder located on internal network shared drive:
[Network-Drive]\\Temp\Marketing-Materials
Before using any of these marketing materials, please take some time to learn about the the UFV brand and how to use it.