Chancellor Bio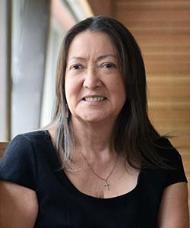 Dr. Gwen Point holds a BEd from UBC, an MEd from the University of Portland, a Doctorate in Education from SFU, and an honorary doctorate from UVic. Her connections to our University stretch back decades. She's been a student, a member of the Board of Governors, a faculty member, and an Aboriginal Curriculum Coordinator, to name just a few of her roles. Dr. Point has also held a number of provincial government and regional posts supporting education, child and family services, and First Nations communities. She is a respected Stó:lõ leader, mentor, and cultural advisor who has contributed her cultural knowledge and experience to numerous books, conferences, workshops, and communities, and earned many accolades and awards. Her ceremonial experience as BC's Chatelaine for five years will serve her well in this role.
Career
Gwen Point has been developing and delivering courses at UFV in the School of Social Work and Human Services since 2005 (and was a sessional instructor at UCFV from 2002–04). She also served as UCFV's Aboriginal Curriculum Coordinator in 2001. She has been the coordinator and an instructor in the Early Childhood Education program at the First Nation Training and Development Centre in Prince Rupert, and, in her position as a faculty associate in the Faculty of Education at SFU, coordinated the supervision of student teachers, developed and delivered programs and served as liaison with public school administrators and sponsor teachers. As Manager in the Stó:lō Nation Education Department she was responsible for K-12, postsecondary, and First Nations language and culture programs. She has also worked as an elementary school teacher in Chehalis and as a native support teacher for School District 33.
Government and community experience
Point has extensive government and community experience. From 2007–12, as spouse of the Lieutenant Governor, she served as BC's Chatelaine. This role demanded her participation in numerous and diverse public engagements, social as well as ceremonial. She served as official host of visiting members of the Royal Family, heads of state and other dignitaries, as patron of organizations such as the BC Council of the Girl Guides of Canada and First Peoples House, and as an Officer of the Order of St. John.
She served in the Ministry of Education, Skills and Training, Aboriginal Services Branch, as the regional coordinator for the Fraser Valley, 1997–99, and for the Northeast and Northwest Regions, 1999–2000. She currently serves on the Board of the First Nation Education Steering Committee (formerly vice-president). She has also served as independent chair of the Fraser Valley Aboriginal Interim Board of the Ministry of Children and Families, and numerous other community and educational committees, councils and societies, frequently as chair. She is currently Chair for the Fraser Valley Aboriginal Children and Family Services.
She is a well-respected and well-recognized Stó:lō leader, mentor, and cultural advisor. She has contributed her deep cultural knowledge and experience to numerous books, conferences, workshops and communities, often as an invited keynote contributor.
Awards and recognition
Point has received numerous prestigious awards. In 2012, the University of Victoria awarded her an honorary Doctorate in Education. UFV (then UCFV) awarded her the Betty Urquhart Community Service Award in 2003. She has also received the Ambassador Award from Aboriginal Tourism BC, and was recognized as Honorary Witness by the Truth and Reconciliation Commission of Canada. She has received a number of community awards for her contributions to Stó:lō language and cultural education, including recognition by the Stó:lō Nation, the Seattle Art Museum and others. In 2006, the Chilliwack School District set up two bursaries in her honour.