Meet your instructors
Paul Brodie
Paul Brodie has over 25 years of expertise in designing and building bicycle frames. Best known for engineering a sloping-top tube frame that revolutionized the face of mountain biking in Canada, Paul has dedicated his life to building unique bicycles by hand. Some of his creations, such as the award-winning Whippet 1888, are replicas of historical models.
View an interview with Paul on CBC
Former owner of Brodie Bikes, Paul is now the mastermind behind Flashback Fabrications Ltd. He has been inducted into the Mountain Bike Hall of Fame.
In September 2010, Paul began teaching a hands-on bicycle frame building course at UFV to share his expertise with bicycle enthusiasts who dream of designing their own hard tail frame.
Following up on the success of Bicycle Frame Building 101, Paul now also offers an advanced supervised open session to allow graduates to build a second frame. Paul's UFV bike frame building courses ‒ like many projects he undertakes ‒ are the only one of their kind in Canada.
Bruce Wenting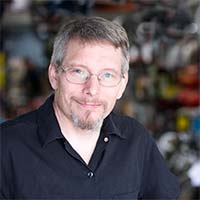 Bruce Wenting owns Wentings Cycle & Mountain Shop, a family-owned and operated retail bicycle and snow board shop that was established in Mission, BC more than 30 years ago. He is a bicycle repair specialist and a NCCP level 3 Cycling coach specializing in bike fitting. Road, mountain, or triathlon athletes depend on his expertise for better performance and fewer injuries.
Bruce teaches the Bicycle Mechanics Level 1 and Bicycle Mechanics Level 2 courses offered through UFV Continuing Studies. He brings to these courses his well-rounded industry experience in bike mechanics and shop operations.