Office of the Chancellor
Role of Chancellor
The Chancellor is the ceremonial head of the University of the Fraser Valley, presiding over Convocation and conferring UFV credentials (degrees, diplomas, and certificates). As a representative of the public interest at the university, the Chancellor also acts as an ambassador for UFV and is called upon to represent the institution at major events both on and off campus. The role of Chancellor is voluntary and is held for a three-year term.
The Chancellor is appointed by the UFV Board of Governors upon the recommendation of the Alumni Association and consultation with the UFV Senate. The Chancellor serves as a member of the Board of Governors and the UFV Senate.
Dr. Gwen Point (2015-April 1, 2018)

‌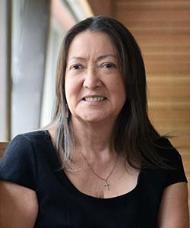 Dr. Gwen Point is the second Chancellor of the University of the Fraser Valley.
‌She was formally installed as Chancellor at a ceremony at the Chilliwack campus, Canada Education Park, on February 4, 2015.
About Dr. Gwen Point
Dr. Gwen Point has a connection to the Fraser Valley that stretches back decades. She started her engagement with what was then Fraser Valley College in the early 1980s when she and her husband Steven (former Lieutenant Governor of British Columbia and now a B.C. provincial court judge) took university-level courses there.
From Fraser Valley College student to member of the University College of the Fraser Valley board of governors, to UFV assistant professor, Dr. Point's career and educational journey has paralleled the development of UFV from college to university. Her experience as Chatelaine of the Province of British Columbia — the title given to the spouse of the Lieutenant Governor — will serve her well when performing the ceremonial aspects of the UFV Chancellor role.
Point is an assistant professor in the School of Social Work at UFV, and teaches First Nations Studies courses, including Stó:lō Nation Development, and Stó:lō Communications and World View. She will be resigning her position as a faculty member at UFV in order to take on the voluntary Chancellor role.
She holds a Bachelor of Education degree from UBC, a post-baccalaureate diploma from SFU, a Master of Education degree from the University of Portland, and a Doctorate in Education from SFU. She also holds an honorary Doctor of Education degree from the University of Victoria.
Point brings extensive teaching and educational leadership experience, from elementary to postsecondary, to her new role, as well as extensive government experience from her work with provincial ministries and her service as Chatelaine of B.C.
She is a respected Stó:lō leader, mentor, and cultural advisor. She has contributed her cultural knowledge and experience to numerous books, conferences, workshops and communities, often as an invited keynote contributor.
She has also received numerous prestigious awards over the course of her career.
The ceremonial aspects of her Chancellor role will be inspired both by her time as Chatelaine of B.C. and her leadership role in the Stó:lō community.
When not busy with their professional or community roles, Gwen and her husband Steven enjoy spending time with their children and grandchildren.
Incoming Chancellor: Dr. Andy Sidhu
A long-time proponent of community engagement and integration, Sidhu will take over from Dr. Gwen Point, who served as UFV's second Chancellor from 2015 to the present, following two terms by Brian Minter.
"I'm extremely honoured and proud to join the University of the Fraser Valley in this capacity," Sidhu said.
"UFV has a rich history of in inclusivity and community leadership. Needless to say I'm very excited to contribute as we move forward together."
An accountant by trade before emigrating from Malaysia in 1974, Sidhu worked first on a dairy farm, then as a bookkeeper with the Canada Farm Labour Pool, where over the course of his 21 year career he became an unofficial ambassador, bridging gaps in culture and language between local businesses and people emigrating from the Punjab.
Sidhu is best known for founding B.C.'s first multi-language newspaper, the Punjabi Patrika. Printing 15,000 copies every Friday in English and Punjabi, the Patrika was established as a beacon of inclusivity and multicultural connection nearly 22 years ago.
Sidhu received an honorary degree from UFV in 2017 in recognition of his community service.
As Chancellor, Sidhu will act as ceremonial head of UFV while serving as a member of the Board of Governors and the Senate. He will also preside over convocation, conferring UFV degrees, diplomas, and certificates, and serve as an ambassador for UFV at major events.
Andy Sidhu will be the University of the Fraser Valley's third Chancellor. He assumes responsibilities of the role on April 1, 2018.
Read the full story on ufvtoday.ca