‌Dr. Brian Minter (2008-2014)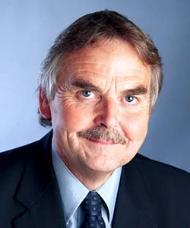 Canadian gardening icon and Fraser Valley community leader Dr. Brian Minter has served as Chancellor of the University of the Fraser Valley from 2008 to 2014.
A recipient of the Order of Canada, the Spirit of Enterprise award, and the BC Small Business Excellence award, Dr. Minter is a horticulturist, entrepreneur and co-owner with his wife, Faye, of Minter Gardens, a destination garden centre in Chilliwack and former 27-acre world class tourist show garden. He is well known from his magazine and syndicated newspaper columns, TV and radio programs and his best-selling gardening book.
Minter has a strong connection to the University of the Fraser Valley. In addition to serving as UFV's first Chancellor, he taught night school courses in horticulture in the 1980s and was chair of the Board of Governors when Fraser Valley College was transformed into a degree-granting university college in 1991. He is also a donor to UFV. Minter was granted an honorary Doctorate of Technology degree from UFV (then UCFV) in 2001.
As Chancellor, Minter served as the ceremonial head of the university. He presided over convocation and conferred UFV credentials (degrees, diplomas, and certificates). He also acted as an ambassador for UFV and was called upon to represent the institution at major events both on and off campus.
The role of Chancellor is a voluntary one, and was created at UFV when it changed from university-college to university status in 2008. Upon the recommendation of the UFV Alumni Association, and after consultation with the Senate, the Chancellor is appointed by the UFV Board of Governors.