Tracy Ryder Glass selected as new UFV Vice-Provost Academic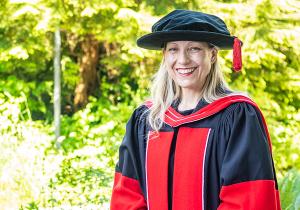 Dr. Tracy Ryder Glass has been selected Vice-Provost Academic at the University of the Fraser Valley.
Ryder Glass has served as UFV's Dean of Professional Studies since 2014.
She holds six degrees, including a BA in Sociology and Hons. BA in Criminology, a BEd and Ontario teaching certificate, a Bachelor of Laws and membership with the Law Society of Upper Canada, a Master of Laws with a focus on conflict resolution, and a PhD in Higher Education with a specific focus on post-secondary leadership.
Ryder Glass steps into a Vice-Provost's role previously held by Dr. Peter Geller, now Interim Dean of the Faculty of Applied and Technical Studies.
"Dr. Ryder Glass has proven herself to be an invaluable member of UFV's senior administration team for the past seven years, and we are extremely grateful to welcome her knowledge and wisdom into the important role of Vice-Provost Academic," says Provost and VP Academic James Mandigo.
"She has excelled at every level, and her contributions will be integral as UFV continues engaging learners, transforming lives, and building community."
Known for her ability to maximize opportunities within policy while building authentic relationships, Ryder Glass was drawn to her new position largely because of its alignment with her own core values — ensuring the learning needs and goals of students are being met. This includes an institutional presence of Indigenous ways of knowing weaved throughout curriculum and ever-present in the minds of educators connected to UFV's diverse student body and community partners.
As Vice-Provost Academic, Ryder Glass will lead the development of UFV's new Strategic Enrolment Management Plan, focus on supporting opportunities and redressing barriers for life-long learning, and oversee external partnership opportunities, policy development, and renewal.
"I'm honoured to have this opportunity to bring my skills and experience into this position while building upon the accomplishments of Dr. Geller," says Ryder Glass.
"We have an enormous opportunity to help transform the lives of learners while forming a stronger, more inclusive future for generations to come. I can't wait to contribute through the work that lies ahead."
While excited for the opportunities and challenges awaiting with her new role, Ryder Glass admits the transition is somewhat bittersweet, thanks to a deep connection with the faculty, staff, and students involved with UFV's Faculty of Professional Studies.
"I've thoroughly enjoyed my time as Dean," she says, "and I'm truly proud of the commitment our Faculty has all shown in putting our students at the centre of what we do."
Away from academia, Ryder Glass — a former national-level mountain biker — enjoys time exploring the region with her family.