General Studies program creating flexible educational pathway for international students
by Gerald Narciso on August 12, 2021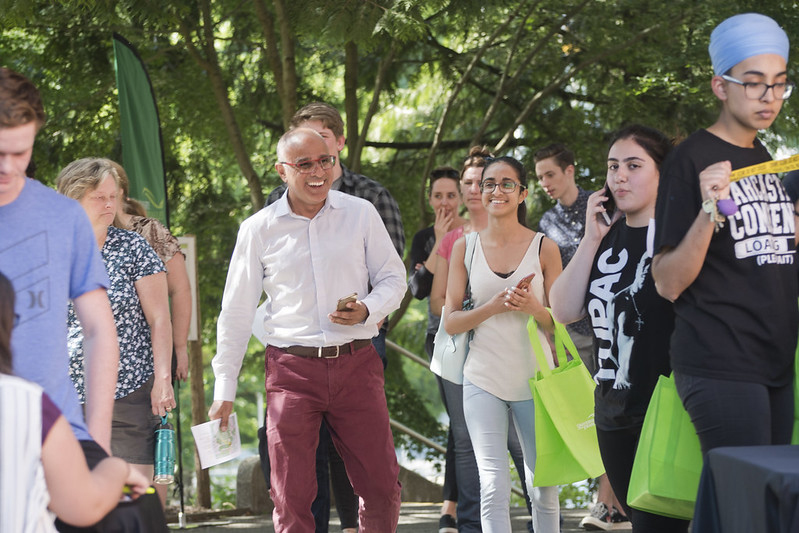 Maybe you weren't able to tell from June's online convocation, but one of UFV's oldest programs had a dominating presence. A record 486 students earned a General Studies diploma in 2021 — the largest representation out of all UFV departments and programs. That's no fluke…it's a growing trend. The program had 211 graduates in 2020 and 142 in 2019, both records at the time.
"I think people are recognizing the value in this program, they're telling their friends," says Michelle Rhodes, director of Integrated and General Studies, Transfer and Partnerships. "Word of mouth is one of the ways that this program has become quite popular."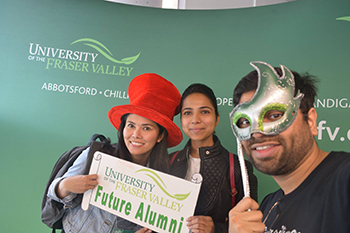 The General Studies diploma is UFV's oldest credential. When Fraser Valley College (now UFV) was established in the early 1970s, it had a sole credential: the General Studies diploma program. That program has evolved over the decades in terms of prescribed requirements. But at its core, the diploma is designed for students who are exploring their career field or who have a variety of interests.
Because of its flexibility, UFV's General Studies program (a two-year diploma) has long been a popular choice for non-traditional students, particularly international students, who now make up about 62 percent of the program's enrollment.
"We've seen a bit of a change in our demographics of the program — the most growth has been with international student enrollment," says Rhodes. "They want to have some freedom to explore and be able to try different programs out."
The UFV General Studies program is a stepping stone into many different careers, with the flexibility of customizable pathways. Whether they are international students adjusting to Canada and the country's university system, part-time students working full-time, or transfer students re-evaluating their career path, the General Studies diploma gives students the try-before-you-buy approach to education.
Common fields that many General Studies graduates pursue include: elementary education; government and administrative support; community programming and outreach; aviation; and business.
"A lot of times it's young students that are trying to find their way and figure out what to do next," says Kulwant Gill, an academic advisor in the UFV Advising Centre. "And this is a way for them to kind of dip their hands in a few things."
For academic advisors and leaders in the General Studies program, providing a challenging but manageable post-secondary experience for International students is a top priority. On top of adjusting to the Canadian culture, international students — who also come from countries like Vietnam — face pressure to excel academically and secure employment before their student visas expire. Advisors make sure students do not feel like they are stuck in the wrong major or are carrying an overwhelming course load.
During the pandemic in 2020, the program and its faculty remained flexible by offering classes online and at night to accommodate students living in India.
"We have a moral and ethical obligation to ensure that these students actually succeed," Gill says. "We fight for our students and ensure that they get the services that they need."
Rhodes explains that the majority of international students from India opt for diplomas before exploring degrees. The reason for this, she says, is to offset the high cost of a traditional four-year university degree. Many international students from India establish their permanent residency in Canada and work before returning to get their degree.
"I think folks need to put themselves in the space of the student for a little bit and think about how expensive it is to attend university in Canada and how much sacrifice that is for them and their families," says Rhodes.
With the General Studies program being a logical and practical introduction into their post-secondary careers, the enrollment continues to rise for international and non-traditional students in record numbers.
"The General Study diploma has contributed hugely to UFV in terms of revenue generation and also internationalization," says academic advisor Simon Xi. "So we have made a huge contribution to the institution and created a safe haven for students."
The program is expected to turn out record enrollment again next year. But more importantly than performance metrics and revenue, the General Studies program is erasing the stigma that it's inferior. Instead, they are proving that this diploma continues to provide a well-rounded education and put students — international or non-traditional — onto a gradual path of success.
"Students are choosing the diploma, they're not coming into the diploma because they ran out of choices," says Rhodes. "And, I don't ever want to underestimate how much more difficult it is to study quite a few different subjects compared to studying one. These students are having to excel in a range of subject areas with different communication norms and styles in order to be successful in the diploma.
"And that's actually quite distinct."