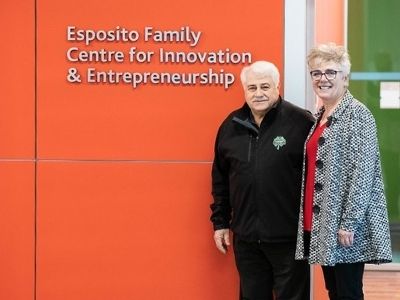 Over the past three decades, Paul Esposito has contributed countless hours and funds to numerous causes, programs and institutions across the lower mainland, with a special focus on the City of Abbotsford. His parents instilled in him the importance of providing for others, a trait he personifies to this day.
"Few things in this life, other than the birth of my two sons, bring me as much pleasure as being able to give something back to my community. You have to give unconditionally and expect nothing in return. It's the heart that counts."
From high school teacher to entrepreneur
Growing up in Trail, B.C. after emigrating from Italy, Paul began working at a young age to help support his family. He eventually earned enough money to attend the University of Victoria and became a high school teacher who enjoyed finding ways to bring out the best in each of his students.
A history-making gift
Now a successful entrepreneur, Paul continues to support education and in 2018, Paul and his sons Frank and Paul Jr. made UFV history by donating $1,125,000 to establish and endow the Esposito Family Centre for Innovation and & Entrepreneurship. This act of generosity was UFV's largest gift in its forty-five-year history.
Through this endowment, Paul hopes to spark the entrepreneurial spirit in UFV students for generations to come, providing a platform to develop projects from idea to commercialization. He notes that his gift will also support the future of Abbotsford by helping to build meaningful lives and careers that will contribute back to the city's economic and cultural success.
Good neighbours since 1983
Paul's affiliation with UFV goes back more than thirty-five years when he opened Finnegan's in 1983 and King's Crossing in 1987, next door to the University. Finnegan's became a UFV gathering place for students, staff and faculty, fondly known as "Building F" following UFV's convention of naming its buildings after letters of the alphabet. The business grew with the University and was the epitome of a good-neighbour relationship. To this day, Paul hires UFV students to work in his restaurants, retail enterprises and construction businesses, and personally serves as a coach and mentor to them, following their progress and careers with pleasure. And what became of Finnegan's? It is now known as Building K, and is home to the Esposito Family Centre for Innovation and & Entrepreneurship.
An endowment that supports students
The Esposito family's historic donation also endowed three student bursaries and a student leadership award. Most recently, Paul partnered with UFV's School of Business as a Guest Lecturer. His in-depth knowledge, experience, warmth and caring have made him a very popular instructor, much sought after by our students.
Not one to seek the limelight, Paul is very quiet about his philanthropy. He is truly motivated to help others succeed and thrive, and together, to create a strong community where all may benefit.
In Paul's words – "It's what we give back that really makes a community. I am grateful to be able to give - and I'm humbled by it."