Student profiles
Student Profiles
Students who study Criminology and Criminal Justice at UFV come from diverse backgrounds. But they all have one thing in common: they have a common focus on applying what they learn, both in their workplace and community.
Kim Nickel
Kim has been working for the School of Criminology and Criminal Justice, at UFV, for the last 10 years. During this time she has had the opportunity to establish diverse and extensive practicum partnerships that enhance student professional development.
Kim graduated with her MA in Criminal Justice at UFV in 2010 and found the MA program to be rigorous, allowing her to focus her interests in theory and practice. She was challenged to work at her best while considering the policy/practical implications of her intentions. The cohort model allowed her to test her knowledge with practitioners and non-practitioners alike.
Overall, the cohort enhanced her learning and improved her network. Her MA resulted in being awarded the Governor General's Gold medal for academic performance as well as her acceptance into SFU's Educational Doctorate program.
Jennifer Armstrong
Jennifer Armstrong is an instructor in the School of Criminology and Criminal Justice at the UFV, as well as a research assistant for the Centre for Public Safety and Criminal Justice Research.
Jennifer was awarded her Masters in Criminal Justice from UFV in 2012. Jennifer is currently a Ph.D. candidate at the University of Leicester, School of Law (UK), and is looking at prior record as a consideration in Canadian sentencing decisions.
Further, she has authored and worked independently or as part of a team on a wide range of policing-related studies, such as; police car crashes, auto thieves, use of DNA in investigations, automatic licence plate recognition software, police wrong-doing, public complaints against the police, community crime prevention programs, public safety, victimization, perceptions of the police among the public, and use of force scenario training for police.
Erin Osterberg
Erin is a sessional instructor in the School of Criminology and Criminal Justice at UFV. She received her Bachelor of Arts in Criminology from Simon Fraser University in 2003, and was awarded her Masters in Criminology and Criminal Justice from UFV in 2011.
Erin is currently a doctoral student at the University of British Columbia where her research focuses on the state's response to the 'mass arrivals' by boat of 2009/2010 off the coast of British Columbia. Her research examines and deconstructs the legislative amendments and policy changes that arose as a result of border securitization.
Prior to commencing her PhD, Erin served for 13 years as an officer with the Canada Border Services Agency, first as a Border Services Officer at Vancouver International Airport, and the latter half of her career as an Inland Immigration Enforcement Officer. Erin is an active community volunteer, participating in fundraising activities and implementing initiatives for at-risk and vulnerable youth.
Ruben Timmerman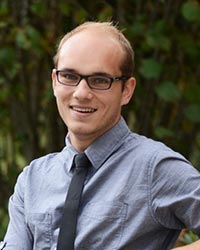 Ruben Timmerman is a BA student from the UFV who completed a practicum with Abbotsford Community Services (ACS) in 2014. During his time at ACS, Ruben wrote a report about homelessness, titled Exploring Housing Solutions in Abbotsford: Survey of Individuals with Housing Needs.
"This practicum has been an incredibly powerful learning experience for me," Ruben says. "It has provided me with a unique and valuable research experience at the undergrad level. I was able to engage in an important issue that affects the community where I live and study."
As part of his research project, Ruben interviewed three different groups of individuals affected by housing insecurity, namely those who are homeless, in unstable housing, or in supportive housing. "I have been especially moved by those members of the community who participated in the study, for being so open and thoughtful in sharing their various experiences and challenges," Ruben notes.
In his conclusion, he identified affordable and supportive housing as a key part of finding sustainable solutions to the homelessness crisis in the local community. He had the opportunity to present his findings to members of the community in collaboration with Megan Capp, ACS' Project Supervisor, Family Outreach & Support Worker.
"The support that I have received at various stages of this practicum has allowed the project to be a success," Ruben acknowledges. "I am immensely grateful to the instructors and community partners with whom I connected. They were supportive of my ideas and mentored me along the way."