Climate Change Theatre Action 2021
Directed by Elaine Ávila
UFV Theatre presents the first production of its 2021-2022 theatre season, Climate Change Theatre Action 2021, directed by visiting guest artist Elaine Ávila.

Climate Change Theatre Action 2021 is a globally distributed theatre festival, now in its fourth iteration, made up of 51 short plays by world-renowned playwrights and creators from every continent on earth, to encourage conversation, community, and action around the climate crisis. This festival is presented in conjunction with the biannual United Nations Climate Change Talks, held this year in Glasgow (COP 26).

UFV Theatre is excited to create theatrical videos of ten of these short and engaging plays, launching a restart to creating, rehearsing, and designing theatre live and in person. Students are utilizing a wide variety of tools available at UFV to create the videos, including editing software, green screen technology, costume, make-up, sets, lighting, video design, indoor and outdoor shoots, and Adobe animation software.

The plays range from an exploration of the personal costs of turning Canada into an ecological preserve 150 years in the future to the comic perspective of a baby salmon in our waterways in B.C., to an in-depth look at what "consultation" between government and First Nations truly means, from the perspective of a Palawa author. Director Elaine Ávila shares, "I am enormously grateful to UFV SoCA for programming and participating in this year's Climate Change Theatre Action, an initiative I co-founded six years ago which now reaches 40,000 participants, worldwide. Students at UFV are learning about international performance and innovative initiatives to face the climate crisis."

The authors of the plays are Métis, Algonquin, Oji-Cree, Azorean Portuguese, Ugandan, Canadian, South Asian, Mohegan, Aboriginal Australian from the Palawa people of Tasmania, and Turtle Mountain Chippewan. The plays chosen for this production are: Initiation by Angella Emurwon; The Consultation by Dylan Van Den Berg; Mossom Creek by Elaine Ávila; My Apology by Keith Barker; When by Wren Brian, Mizhakwad (The Sky is Clear) by Dylan Thomas Elwood; FRIENDS FOR LIFE By Himali Kothari; Green New Steal by Corey Payette; Ranger by Yvette Nolan; and What We Give Back by Madeline Sayet.

CCTA 2021 features UFV Theatre student ensemble actors Sarah Byers, Emmanuel Akpoviroro, and Jennifer Steadman. Student production designers include Brooklyn Doornbos (hair and makeup) and Makayla Pollock (lights and costumes). The backstage student crew includes Stefan Boekhorst (sound/set), Joshua Franklin (lights/props), Trevor Marsh (sound/voice), Lisa Patetta (Assistant Stage Manager & Costumes), and Aimée Payeur (set/props). Students are mentored by part-time faculty member and UFV alumni Matthew Piton, wardrobe manager Heather Robertson, theatre technician Mark Sutherland, and media arts assistant professor William Maher.

Performances will be held via zoom and tickets are free; however, audience members are encouraged to make a donation to the UFV Indigenous Student Emergency Fund when they reserve tickets, and we encourage audience members to educate themselves about the ongoing legacy of residential schools and the relationship between climate change and the intergenerational effects of colonization.

Donating to the UFV Indigenous Student Emergency Fund is one small action we can take to begin to reckon with the enormity of colonial practices and to become better stewards of this place, and by helping Indigenous students at UFV meet their educational goals, audience members can take a positive step towards Indigenizing and reconciliation.

Video Performances: November 25 and 26 at 7 pm, and November 27 at 2 pm, via Zoom.

Post Performance Talkbacks will occur after every show, which promise to enhance audience members' understanding of the performance. Special guest playwrights will also be attending the Post-Performance Talkbacks to discuss their ideas and answer audience members' questions.

November 25, special guest: Angella Emurwon, Initiation.
November 26, special guest: Dylan Van Den Berg, The Consultation.
November 27, special guest: Yvette Nolan, Ranger.

Reserve your tickets today. Bookings can be made through Eventbrite

Ticket registration ends 2 hours before performance start times.

Email theatre@ufv.ca for questions.
Meet the Cast & Crew
Director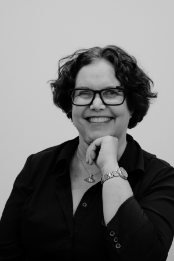 Welcome to the production of the Climate Change Theatre Action, 2021, at the University of the Fraser Valley! Please, make yourself comfortable. Hook up to a big screen if you can, make a cup of tea, or have another beverage to relax, get cosy, and settle in for 55 minutes. Led by Director of School of Creative Arts Heather Davis-Fisch and Associate Dean Tetsuomi Anzai, mentored by UFV faculty and staff (thank you, please see credits), students have made videos for you, full of passion, thoughtfulness, design, humour and connection to the vision of 10 playwrights from Uganda to Tasmania/Lutruwita.

I chose these 10 short plays (out of a possible 51, please see below), because they are deep and complex: I believed that the student actors, editors and designers, and now you, our audiences, would enjoy contemplating them for a long time.

In our part of the world, the film and television industry has a far reach, and stories are praised for being "binge-worthy," "relatable," with clear "take home" values, often ending with a big battle between "good" and "evil." The plays I have chosen have other values and aesthetics, intended to help us find new paths forward, as together, we face the climate crisis. These playwrights speak honestly about "consultation," exploring what it truly mean; they write about the joy of solving literary puzzles, a Prime Minister making a true apology, the bravery of the Jal Sahelis, a group of women from Bundelkhand who have revived methods of water harvesting that could help us in British Columbia. Watch here; and they explore humor and personal sacrifice. They help us envision our future. Some of the plays are questions, meant to provoke thought, discussion, and perhaps most importantly, action. Thank you so much for joining us.

- Elaine Ávila

Background: I co-founded the Climate Change Theatre Action (CCTA) in 2015, with New York City based playwrights Chantal Bilodeau and Caridad Svich, at the request of Roberta Levitow, one of the founders of Theatre Without Borders, to raise awareness about the United Nations Climate Change Conferences, for more voices to be included in these conversations. We built up the first CCTA to include 50 playwrights, 200 venues, and 12,000 participants from every continent on earth. This year is now our 4th theatre action, and we have published two anthologies, and now reach 40,000 worldwide. Everyone is welcome to participate in this global festival, the playwrights have agreed to make their plays available, royalty free, from October 25th to December 4th, from readings in living rooms to full productions. This year, the kick off of was in Central Park in New York City, and you are participating by attending now.
Ensemble
Sarah Byers is a part of the three person Cast for our Fall 2021 production of Climate Change Theatre Action. Diving deep into the many characters of this play, Sarah has enjoyed exploring new ways of telling stories through this pandemic. Having previous theatre experience in high school, Sarah learned the challenges of directing and playwriting, as well as the joys of the stage. Then, here at UFV she fell in love with backstage work, especially stagecraft and design. As a History Major and Theatre Extended Minor, Sarah aims to use her experiences at UFV towards becoming a teacher.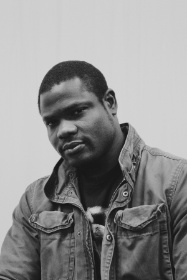 "Hello, my name is Emmanuel and I am one of the cast members for the production. I am originally from Warri, Delta state, Nigeria, and I moved to Canada in 2007. I am currently a student and I have previously taken two theatre classes earlier this year. I am also working, and a track and field athlete. Working with this production has helped me learn more about embodying a character, and finding the center of a character".

- Emmanuel Oghenevovwero Akpoviroro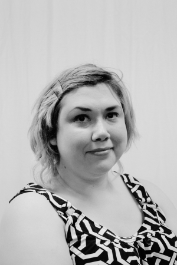 Jennifer Steadman is a fourth-year student completing her Bachelor's degree with a major in Theatre, and hopes to eventually be admitted into a Bachelor of Education program in the near future. Previously, she has worked as Makeup and Hair designer, Props Designer, ASM, and Various other backstage roles at UFV's former North Campus. This is her first main stage role at UFV (and ever!), and is very excited to share it with everyone. The thing she is most excited about through this process is working with texts from various playwrights.
C‌rew
Set/Props
"My name is Aimee and I am mainly part of the production crew for CCTA, with a few acting parts thrown in. I participated in the set design for the shows as well as the props team. This is the first show I've worked on behind the scenes and I've learned a lot about the specifics of scenography. I have worked on one other UFV production called "Dog Sees God" as an actor and I'm in my final year of my UFV Theatre degree. Live theatre is one of my greatest passions and when I graduate I plan to move to Vancouver to join a theatre company and begin my career in acting, design, and stage management."

- Aimee Payeur
Lights/Props
Joshua Franklin is a first-year student in the UFV Theatre Program. Their role in the play has been in lighting and props, while also being part of a few parts of the show. They have been learning about how to set and operate the lighting for all sorts of different shows, as well as how to use and create different props. Being able to work with the other cast and crew has been a very fun and rewarding experience for them.
Hair/makeup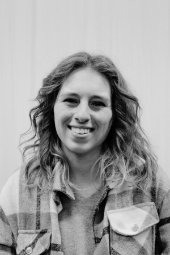 "Hello! My name is Brooklyn and I am on the hair and makeup team for this production. I have enjoyed the teamwork and atmosphere this term. Everyone on the team are all very kind, and the community has made this a very inviting space. I do not have any experience in working in theatre productions and this has been a great place to start. Besides school I am a lifeguard, swim instructor, and a youth leader at my church. I also enjoy hiking and snowboarding in my free time. You can count me in on any adventure that gives me a chance to explore this beautiful wilderness that we have been blessed to call home.

This term I wish to try some new styles and help create conversation around the action that needs to be taken in response to climate change.In the current production, the act of creating multiple short pieces that will all be filmed gives us the chance to create multiple differing designs so that we can try out a larger number of ideas. The act of filming also gives us a chance to work on our cinematography and provides the opportunity to try out art media."

- Brooklyn Doornbos
Lights/costumes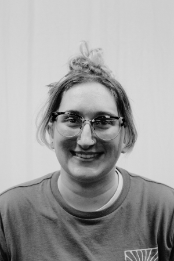 "Mak is back at it again with a third production with UFV using an online format. Each production has been an amazing opportunity to learn and grow in theatre. By exploring different platforms, working with new crew and directors I've gained so much knowledge and passion for behind the scenes. With CCTA I've gotten the chance to work in the lighting department which I've been wanting to do for quite sometime, as well as, have the opportunity to film as of our plays. I am once again in the costume department and it's great experience to continue to build my confidence with wardrobe building and character development. Currently I am a full-time student juggling two productions and couldn't be happier with my choices. It's great to experience both an in person and online platform for performance. So grateful to have a continuous opportunity to work with my fellow students, professors, and staff at UFV. Thank you for my new passion I wouldn't be here without the support from you all!"

- Makayla Pollock
Sound/voice
Tevor Marsh is a Theatre major in his last semester of classes. Working part time in recreation centers, he has aspirations to move on to Voice acting and Sound design. He is excited to participate in a theatrical movement for the environment, and hopes that these productions can spark change. In these productions he will be lending his voice in performance and working as a sound designer, operator and editor.

Working the last year or so on online productions has first and foremost been a challenge. I have had to acclimatize to acting to a video call, and managing technical ques over the internet. This has not been without success. I have been part of two separate zoom productions and several smaller solo pieces. One fond challenge was doing a live piece with another actor who was connecting from China. It is just another medium for us to share our art and has let us share that art further around the world.
Sound/set
"My name is Stefan Boekhorst and i'm currently doing a Bachelor of Arts majoring in theatre and minoring in sociology. This is my second time working backstage for a UFV production. I've previously worked on sound design for the devised performance 'No Strings Attached' in the beginning of the year and acted in last year's "Dog Sees God". For this production, I am working in sound and set design. Potentially in the future, I would like to use this experience to apply to acting or backstage work as a career."

- Stefan Boekhorst
Costumes/stage manager
Lisa Patetta is a Costumes Assistant as well as Assistant Stage Manager for this production. She is currently a student in the BA with the aim to major in Theatre. With a background in animation for television, Lisa has had to adapt to the theatre which has been an incredible experience. What she has enjoyed the most has been the ability to participate in a film/theatre hybrid production, which is a unique circumstance.
Follow the UFV School of Creative Arts @ufvsoca on Facebook, Instagram and Youtube.
School of Creative Arts, University of the Fraser Valley
33844 King Road, Abbotsford, BC