Lacey Hall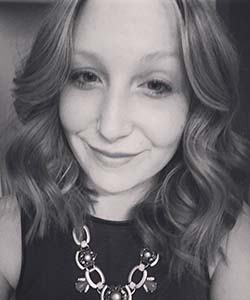 In my 3rd year of English studies at UFV I started looking into what an Honours major was, why it was useful, and what was required of me. After doing the research, I realized that Honours added value to my degree in a way that would be incredibly beneficial to me going forward.
While taking an undergrad degree, I learned how to think, write, and produce one semester at a time. Honours built on the skills I already possessed, and, over the course of two semesters, gave me more time to think critically about a project, more time to write methodically about a project, and more time to finish with a well-crafted product.
Working on one end-goal assignment over two semesters is a priceless experience for those planning to continue with their education for many reasons: taking on the endeavour shows initiative; crafting your own course outline and assignments shows drive; and researching and writing for eight months shows determination. These are all things that master's programs look for in an application.
Another aspect of the Honours program that I found enjoyable and yet another valuable experience was the time spent working one-on-one with a professor of your choice. I worked with Michelle Superle on a children's literature research paper, as well as a creative writing project for my Honours courses. Her guidance and knowledge of the topic, along with my passion to learn, put me in a position to succeed.
I came away from my Honours program feeling very accomplished — especially since I was accepted to present my academic essay at the 2014 UBC Arts Undergraduate Society Humanities and Social Sciences Conference. Along with another select few, my paper was later published in the conference proceedings.
After graduating from UFV, I was hired as assistant to the Dean of Arts at Kwantlen Polytechnic University; I believe that the experience of taking an Honours major was a great asset to me in my interview as I was able to demonstrate exceptional work ethic, the ability to work closely on projects, and collaborate with others.
I am now at the University of British Columbia as a master's of Children's Literature student. I feel very confident that my time as an Honours student played a large role in securing my spot at UBC, and am very happy I took the time to add on that extra semester — it has truly set me up for my future, both academically and professionally.
Read Lacey's paper from the 2014 UBC Arts Undergraduate Society Humanities and Social Sciences Conference.