Program: Bachelor of Science in Biology
Choosing a career is a journey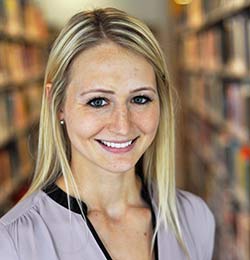 What do you want to do with your life? Soon-to-be high school graduates often dread the question.
When Nicole Wierks started exploring her university options, she had not settled on a path. And even though she was a star basketball player in high school, she had been battling back from a torn ACL injury in Grade 11, so she wasn't sure if basketball was in her future either.
"I knew playing basketball and going to university would be a lot of work and it was a big decision," Nicole recalls.
Ultimately, it boiled down to a simple choice: "I knew I could either quit or do something special with the gifts I had been given," Nicole says.
Figuring it out on the go
Not being a quitter, the Chilliwack resident decided to attend UFV to test the waters. And what followed were five extraordinary years.
Nicole became the leader of the UFV Cascades women's basketball team that stormed its way to a third-place finish at the national championships in March 2014. And she also earned the Governor General's silver medal for completing her Bachelor of Science in Biology with the highest grade point average (GPA) over her last 30 credits.
It sounds easy, but it was an intense journey of self-discovery: much of Nicole's studying was done on bus rides, in hotel rooms, and in airport lounges as she travelled the country playing basketball for the UFV Cascades for five seasons.
"My professors were very supportive when managing school and basketball got tough during the busiest times of year," Nicole says. "They knew me and worked with me so I could balance it all."
As she made her way from class to class, medical school became her goal. Upon graduation, she applied to three medical schools, and was accepted to all three. Because she liked the idea of staying close to family, she is now working towards becoming Dr. Wierks at the University of British Columbia.
Combining high-level basketball with the rigors of a science degree was good preparation for the demands of medical school. "What's four more years?" she asks with a smile. "I'm happy that I took the road that I did."
Take the first step
Like it did for Nicole, starting out studying Science at UFV can give you an edge, because UFV is a teaching-oriented institution with small class sizes and lab-intensive programming.