Adam Simpson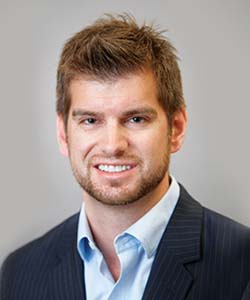 As a project management advisor for the United Nations Office of Project Services based in Copenhagen, Denmark, my work takes me all over the world — often to support development projects in difficult and complex environments.
I earned a Bachelor of Arts in English from UFV in 2006, then served as a director of the UFV Alumni Association from 2008 to 2012.
After that, I worked for a management consulting firm in Vancouver and went on to Afghanistan to work with the Aga Khan Foundation on healthcare reconstruction efforts in the Northern provinces, in coordination with NATO. During this time I also obtained a Master of Arts in Human Security and Peacebuilding from Royal Roads University.
As an avid reader and writer, I found that the UFV English program helped me to gain an appreciation for a wide variety of literary genres, cultural and historical perspectives, and, of course, to find my own writing style.
This solid educational platform helped me build a dynamic career; being able to communicate with clarity and impact are integral components of my job. It is equally important to be able to think creatively when trying to resolve large and complex issues.
The UFV English program helped me enter the workforce with a variety of skills, and I am truly grateful for my experiences in the program.