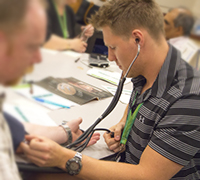 The kinesiology program has not only exposed me to the theory, but has equipped me with a vast amount of practical knowledge, applications, and tools to use in the future. This program has led me to pursue a career in medicine where I can have a positive impact on other and help them live a healthy life.
– P.J. Retief
Kinesiology (Class of 2017)
Find out more about the kinesiology program
Exercise your career options with Kinesiology
As the study of human movement, kinesiology explores a broad range of topics that include anatomy, biomechanics, exercise physiology, sociology, education, active health, wellness, and nutrition.
In the kinesiology program you will go well beyond the questions of how and why we move, and start to explore how we can optimize the human potential for motor skill performance.
With smaller class sizes, UFV students have additional opportunities for hands on experience in the human performance lab, in the community and in professional settings.
We provide students with the flexibility to explore a variety of fields that they may be interested in before choosing to specialize in exercise science or pedagogy.
While some students go directly into the field of kinesiology, others accomplish their goals through further education.
Below is a sample of career currently held by graduates of the Kinesiology program at UFV:
Kinesiologist
Recreation Consultants
Sport and Fitness analysts
Fitness Consultants
Teaching
Athletic Training & Therapy
Physical and occupational therapy
Medicine
Chiropractic