Fraser Valley Regional Science Fair

2018 Fraser Valley Regional Science Fair April 4 - 7, 2018
‌"Celebrating Young Scientists"
Do you love science and have questions about how processes around us work? Do you have an idea on how you could help improve a problem in the world? We call all students from Grades K-12 in the Fraser Valley region (Langley, Chilliwack, Abbotsford, Hope, Mission, and Maple Ridge) to design a science fair project and positively affect our world through scientific discovery!
Each year the Fraser Valley Regional Science Fair invites students from the public, private and home schools in the region to present. Students can participate as a class, group or individually. At the regional level students compete for thousands of dollars in cash and prizes including the chance to join Team BC and represent the Fraser Valley at the Canada-Wide Science Fair (all expenses paid).
We are excited to announce that Carleton University will be hosting next year's Canada-Wide Science Fair from May 12-19, 2018. Students from all across the country will be competing for close to $1 million dollars in cash, prizes and scholarships.
‌‌FVRSF 2017 NEWS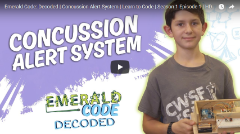 Mac Smith, 2017 FVRSF Gold Medal Winner, appears on the new STEM series Emerald Code: Decoded. He talks about his experience attending the Fraser Valley Regional Science Fair and the Canada Wide Science Fair. Way to go Mac!
[WATCH VIDEO] | [Subscribe to Emerald Code: Decoded]
Our 2017 gold medal winners travel to Regina
‌
May 2017 the FVRSF sent 3 students to represent the Fraser Valley as part of Team BC to attend the Canada Wide Science Fair held in Regina, Saskatchewan. Mac Smith, Clayburn Middle School, Abbotsford; Anna-Lisa Nguyen, Walnut Grove Secondary School, Langley; and, Jennifer Tran, R.E. Mountain Secondary School, Langley joined over 500 of Canada's top young scientists to compete for nearly $1,000,000 in awards, prizes and scholarships.
---
---
Follow us on