What is Enactus?
Enactus is a global organization dedicated to empowering university students across the world who are passionate about addressing social, economic, and environmental issues within their communities. Each year they host regional, national, and global competitions for Enactus teams across the world to showcase their projects and discuss their impact. Enactus operates in 37 countries with over 1,730 university programs, of which Canada contributes teams from 79 academic institutions. Find out more about Enactus Canada here.
About Enactus UFV
Enactus UFV is a student-led organization that works in collaboration with the UFV School of Business, faculty, business leaders, and the community to form business projects that create social change and empower those they interact with. We use our entrepreneurial mindsets to create businesses that address social initiative issues in our community.
Enactus UFV continues to innovate and take initiative through our team members. We have created two sustainable projects that benefit different demographics of people across our community. We are continuing to grow and our members have devoted numerous hours to improving the lives of people in the Fraser Valley community.
Our mission is to develop and implement projects that create positive economic, ecological, and social impacts in our community.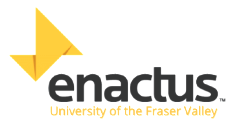 Our Achievements
Recipient of the Spirit of Enactus Award
Recipient of the Enactus Summer Challenge Award
‌