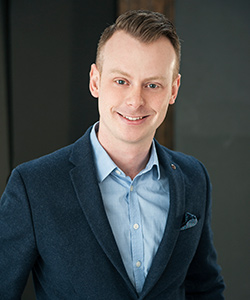 Success story: Alex McAulay, BBA Accounting option, 2008 alumni
In 2011, Alex McAulay and a friend started the Naked Brand Group Inc. As CFO, COO, and director, Alex took the company public in 2012.
Now as the CFO of Garmatex Technologies Inc., an innovative developer and supplier of scientifically-engineered fabric technologies, he is doing it again, going public with a cutting-edge product.
Alex's career started in UFV's BBA program, where he specialized in accounting. Afterwards, he went on to receive his Chartered Accountant designation and worked for MNP LLP in public practice, before kick-starting the Naked Brand Group.
"It is a very technical program at UFV and without it, I wouldn't have been able to complete the CA program," says Alex.
Looking back, he feels great appreciation of the UFV professor who pushed him to get his CA designation. "Isn't it crazy how a little conversation can change your life so completely," he says. "Keith's guidance alone has given me a lifetime of happiness and wealth. If I had gone to a larger university, who knows if something like that would have ever happened. I am very proud of the route I took, but I wouldn't have gotten there without my professors at UFV," he stresses.