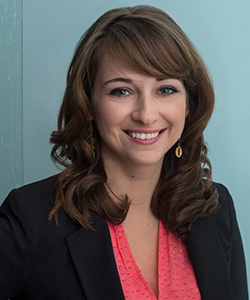 Success story: Whitney Friesen, BBA Human Resource Management, 2012 Alumna
"When I first decided to attend UFV, I imagined that I would be a typical commuter student, just attending my classes and leaving. I never predicted that I would end up so involved," says Whitney Friesen, UFV Business Administration alumna.
Indeed, during her time at UFV, Whitney spent two years serving on the Board of Directors for the Business Administration Student Association (BASA), and even served as president in her final year of studies. She also worked part-time as a Career Peer at the Career Centre, providing résumé and cover letter support to fellow students and organizing volunteers for the annual UFV Career Fair.
She went on to graduate on the Dean's List of Distinguished Students and receive the 2012 Student Leadership Award. She looks back on her time in the classroom saying, "I was always appreciative of the small classroom sizes and involvement of my professors. I had a fantastic human resources professor who inspired me to make Human Resources my career and took extra time to mentor and guide me".
After graduation, Whitney obtained her CPHR (Chartered Professional Human Resources) designation. She has gone on to work for the CPHR BC & Yukon division as a Professional Development Coordinator for four years and is now the Human Resources Coordinator at Smythe LLP, a mid-size accounting firm headquartered in downtown Vancouver.
When not at work, or travelling the globe, Whitney is a facilitator for the CPHR course, which she enjoys, as it provides her with a continued opportunity to apply her studies in a tangible way. "No matter what I do in life, I know that business will always be a useful degree and a strong foundation on which to build a career," she concludes.