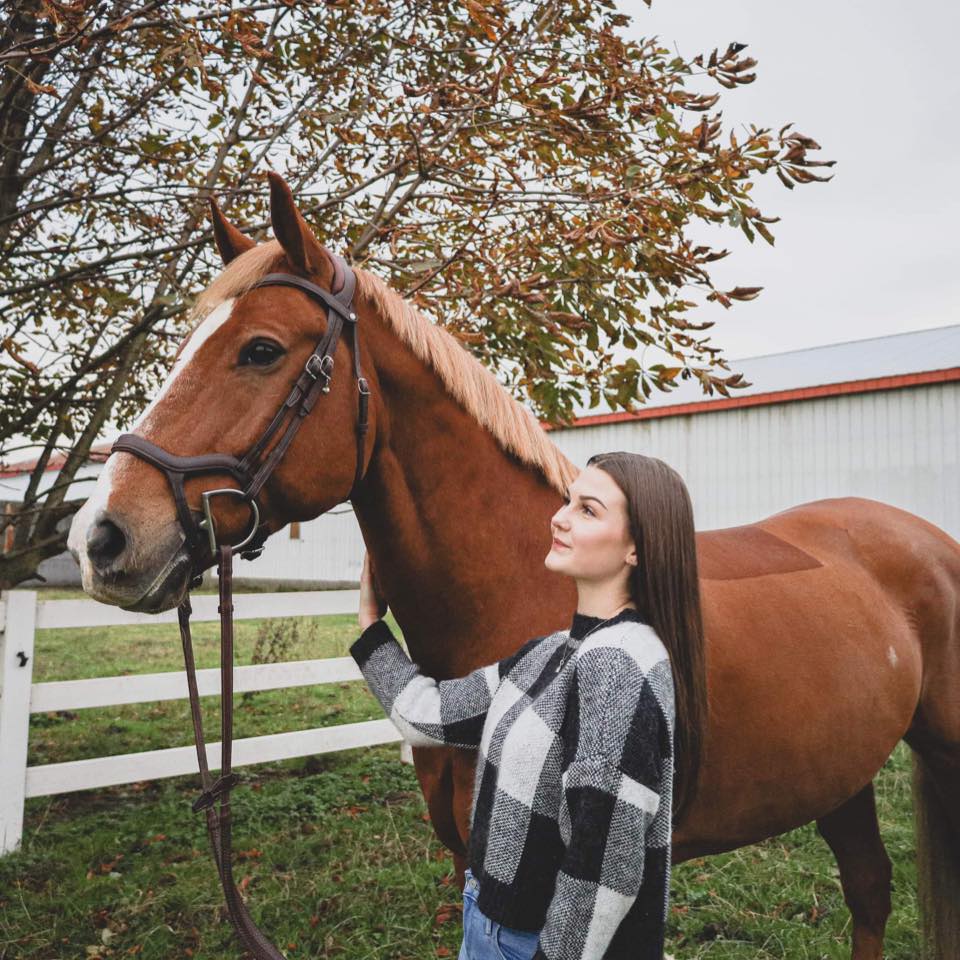 Kia Neilsen experienced first-hand the impact one high school teacher and one university professor can have on a student's academic journey, career direction, and personal development.
Kia began her university journey in 2017, like many other students, working a part-time job, only coming to campus for classes, and going home. "I wasn't a very good student in high school," she says. "I barely graduated because I just wasn't interested. Another four years sounded awful," she says. "In year one, I didn't even want to go to post-secondary school but at the same time I thought this might show me some options. I was quickly overwhelmed when I saw that there were so many careers I could choose."
In her grade 12 year, Kia took a Law 12 course that piqued her interest and prompted her to explore the field further. This was the pivotal moment Kia discovered a passion for criminal justice. "I had no idea there were so many career opportunities in Criminal Justice." When she registered in the Criminal Justice program, the question people stereotypically asked was, 'are you going to be a police officer?' But as Kia found out, "there just so much more."
Over the years, career goals fluctuated. "I did my first practicum at a community corrections office in Probation. When I received my assignment, I wasn't particularly interested but when I started, I was amazed and wowed and had so much fun. It was an incredible experience."
After her practicum in Probation, Kia thought that it might be an area she'd like to explore. she met with her practicum supervisor and coordinator who, looking at her transcripts, informed her that she had law school grades and she should consider that route. "I thought, wow, I never considered that law would be something I could do!"
Over the next year, Kia explored law school requirements until taking the Research Methods course, in Winter 2021, with Dr. Amanda McCormick which ignited a passion for research. Kia's 'natural knack for research' was immediately apparent to Amanda, who encouraged Kia to embrace this talent by working alongside her as a research assistant.
Due to confidentiality, Kia's project topics don't allow her to delve into too much detail, but her research subjects have centred around intimate partner violence and policing attitudes.
"I've had some opportunities where we get to start a research project from scratch, so I get to witness how these projects are essentially developed. It's really cool."
As for Kia's new career goal – she is going into research. "(Amanda and I) spoke for hours about career opportunities and what paths you may be able to take with research in the criminal justice field," Kia recalls. "Amanda laid out the process. I could go to grad school where I'd be basically creating my own research by completing a master's thesis." Knowing that she could work as a teacher's assistant while working on her master's, to get experience in academia, was also appealing.
"I went from nothing, to being dead-set on a path, to falling off the wagon, and now, here I am on my way to working in academia."
"Kia is the kind of student every professor dreams of coming across in their classroom", Dr. Amanda McCormick says. "She has a natural inclination for research - she's inquisitive, asks critical questions, and is passionate about doing the kind of research that directly impacts her community. She was an exceptional student and I'm thrilled that I had the opportunity to involve her from the ground up in our research. I can't wait to see what she accomplishes in what I'm confident will be a truly successful career in academia."
Since becoming involved in research through her research assistant position, and through networking opportunities with Amanda and the Centre for Public Safety and Criminal Justice Research, many opportunities have presented themselves to Kia.
"It's been amazing. I haven't ever had an experience like this. I started out going to university and wasn't overly involved, but when you're actually completing schooling that you're interested in, things change."
Kia credits her career direction to Amanda, explaining, "I mention Amanda a lot because she means a lot to me and has been instrumental in the past year helping me figure out what I want to do."
Kia thinks Amanda might be surprised when she sees this article. "I think she understands how influential she's been for me, but I don't think she understands that she is basically the main reason I'm where I'm at. She's given me some hefty guidance and been an inspiration. I've had exceptional profs at UFV, but she's amazing!"
Kia has been admitted into SFU's Criminology MA program and has accepted their seat offer.